PUBLICATION SCHEDULE
Many of our advertisers renew their ads annually due to the quality and quantity of responses they receive from Princeton Alumni Weekly readers. There are two types of classified ads available: ads that are priced by the word and display ads within the classified section of the magazine that permit the use of logos and artwork.
PER WORD ADVERTISING
Mimimum of 10 words.
CAPS/BOLDFACING of the first three words is included. Boldfacing of additional words is billed at $3.60 per word.
Icons can highlight your ad for a charge of $15 per issue.
An online ad is provided at no additional charge when a classified ad is purchased and is available online until the next issue is published.
A hotlink to your web address or e-mail address can be purchased for $5 per link per issue. The hotlink is highlighted in the online ad.
Your entire ad can be highlighted online for an additional charge of $15 per issue.
DISPLAY ADVERTISING
---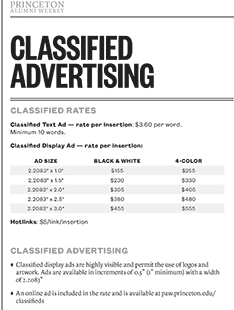 For information on advertising contact:
Colleen Finnegan, Advertising Director
cfinnega@princeton.edu
609-258-4886
DOWNLOAD CLASSIFIED ADVERTISING INFORMATION