Why advertise in PAW?
WHY PRINT?
Magazines are more relevant now than ever before
Consumers trust print more than any other advertising medium [1]
The brain responds to print and digital media in different ways: Print ads are better at stimulating emotions and desires [2]
There is higher comprehension when reading on paper versus a screen [3]
Brand recall is up to 70% higher in magazine advertising than digital media [4]
In a study that measured 1,400 campaigns using a wide variety of ad venues, magazine advertising resulted in the highest return on ad spending [5]
Consumers tend to be more focused and more relaxed when they read print magazines, i.e., they "lean back" and this enhances retention [3]
WHY PAW?
The Princeton Alumni Weekly (PAW) provides an affluent, influential audience
The low ad-to-edit ratio of 20:80 ensures that your brand message gets across to our readers
With 11 issues per year, PAW offers unmatched engagement with our readers
PAW is read — including the ads. Of PAW's readers, 83% read all or most issues, 69% read the display ads, and 32% purchased a product or service advertised
"Consumer Trust Is Evolving in the Digital Age." eMarketer. January 3, 2017. www.emarketer.com/Article/Consumer-Trust-Evolving-Digital-Age/1014959
"Using Neuroscience to Understand the Role of Direct Mail." Millward Brown. 2009. www.millwardbrown.com/docs/default-source/insight-documents/case-studies...
Davis, Marisa. "The Print Effect: How Consumer Behavior & Neuromarketing Principles Prove Magazines Deliver," 2017.
Dooley, Roger. "Paper Beats Digital In Many Ways, According To Neuroscience." Forbes.com. September 16, 2015.
"From Ad to Aisle: The CPG Advertising Benchmark Report." Nielsen Catalina. September 2016. www.ncsolutions.com/wp-content/uploads/2016/09/Multimedia-CPG-Benchmarks...
---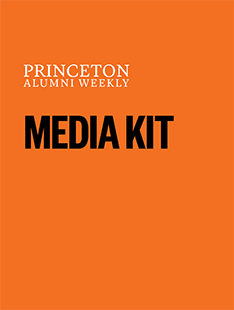 For information on advertising contact:
Allison Sullivan, Publishing Director
As7811@princeton.edu
609-258-2107
Brielle McArdle, Administrative Coordinator
Bm5471@princeton.edu
609-258-4886
---
More from the Media Kit:
Print production specifications and advertising requirements
Classified advertising and schedule