Copy and contract regulations
All advertisements are accepted and published by the publisher — the Princeton Alumni Weekly — upon the representation that the agency and/or advertiser are authorized to publish the entire contents and subject matter thereof. In consideration of the publisher's acceptance of such advertisements for publication, the agency and/or advertiser will indemnify and hold the publisher harmless from and against any loss for expense, including without limitation reasonable attorney's fees, arising out of publication of such advertisements, including without limitation those resulting from claims or suits for libel, violation of right of privacy, plagiarism, copyright and trademark infringement, and any other claims or suits based on subject matter.
The publisher reserves the right to reject or cancel any advertising which, in her opinion, does not conform to the standards or requirements of the publication, and to add the word "advertisement" at the top of any page which, in her judgment, too closely resembles the magazine's editorial copy.
The publisher is not responsible for errors in key numbers or other type set by the magazine.
All agreements are subject to labor disputes, accidents, fires, acts of God, or other contingencies beyond the publisher's control, which prevent the publisher from partially or completely reproducing, publishing, or distributing the magazine. Further, the publisher shall not be liable for damages if there is a failure to publish an advertisement for any reason.
No conditions, printed or otherwise, appearing on contracts, orders, or copy instructions, which conflict with the provisions of this document, will be binding on the publisher.
The publisher cannot be responsible for the quality of art reproduction if the specifications and closing dates are not met.
The publisher reserves the right to change the rates, conditions, and space units stipulated in this document.
No waiver or modification of any of the foregoing shall be binding on the publisher, unless it is in writing and signed by an officer of the publication.
CANCELLATIONS OR CHANGES
Cancellations and changes in orders will not be accepted after the closing date.
All covers and special positions are noncancelable 30 days prior to the closing date. If no new copy is received, the publisher reserves the right to repeat a previous advertisement, or if none exists, to charge for the reserved space.
---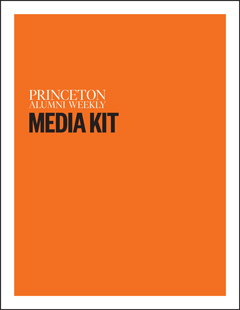 For information on advertising contact:
Allison Sullivan, Publishing Director
As7811@princeton.edu
609-258-2107
---
More from the Media Kit:
Print production specifications and advertising requirements
Classified advertising and schedule