---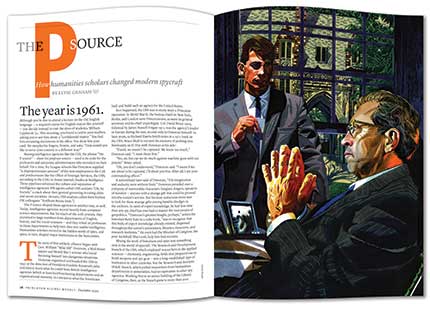 Elyse Graham '07's article, "The P Source" (December issue), more than caught my eye; it jolted me. She leads off with reference to a generic note in 1961 from the dean of students, William Lippincott '41, inviting an undergraduate to have a chat. This was an entry to suggest to the student that he might entertain working for the CIA.
In the spring of 1961, one morning at around 7 a.m. I was awakened by a phone call to my dorm room. I groggily picked up the receiver and a voice said, "John?" Yes, I replied. "This is Dean Lippincott. Could you drop by my office? I have an important matter to discuss with you." "Of course, sir," I replied. My blood ran cold.
My parents had gone on a trip and allowed me to use their car. Unbeknownst to them I left the car with friends in Princeton who lived near the campus, violating University rules. I assumed that Dean Lippincott had found me out and was about to expel me.
He welcomed me and said, "John — you recently took the qualifying exam for the CIA, and you did very well. You have been studying Arabic since your freshman year. You are facing military service when you graduate." (This was the era of the Berlin blockade and the depths of the Cold War.) "What would you think of two years of military service, one year of special forces training, and then an option to join the CIA?"
I was so happy not to be expelled that I said I would give it serious thought. I did, but shortly after, I was awarded a Fulbright scholarship to study Arabic in Cairo. I accepted the fellowship and an academic career in Middle East studies ensued. I returned the car to its home garage ASAP.
Editor's note: Waterbury is the William Stewart Tod Professor of Politics and International Affairs, emeritus, and a former president of the American University of Beirut.