Advertising rates
RATE PER INSERTION
| Ad Size | Black & White | 4-Color |
| --- | --- | --- |
| Full Page | $5,490 | $7,880 |
| 2/3 | $4,150 | $6,530 |
| 1/2 | $3,450 | $5,760 |
| 1/3 | $2,580 | $5,020 |
| 1/6 | $1,390 | $2,700 |
| 1/12 | $750 | $1,500 |
$1,000 premium for back cover
PAYMENT INFORMATION
Payment is required in advance for the first insertion, subsequent advertising is billed upon publication with credit approval
Net due within 30 days of invoice
An advertiser will be rebated if, within the publishing year, the advertiser has used sufficient additional space to warrant a lower rate than what was previously billed. An advertiser who contracts for a specific number of insertions and who does not complete the committed schedule will be shortrated
One-year contracts are accepted at current rates. Orders beyond one year are accepted at the prevailing rate at the time of insertion. Proper notification will be given of any rate change.
Issues that have an additional 30% of circulation carry a 10% rate premium.
FREQUENCY DISCOUNTS
Frequency discounts can be applied to ads 1/6 of a page or larger, with mixed size units counting toward frequency.
5% for 4 insertions
10% for 7 insertions
15% for 11 insertions
CANCELLATIONS OR CHANGES
Cancellations and changes in orders will not be accepted after the closing date.
All covers and special positions are noncancelable 30 days prior to the closing date. If no new copy is received, the publisher reserves the right to repeat a previous advertisement, or if none exists, to charge for the reserved space.
---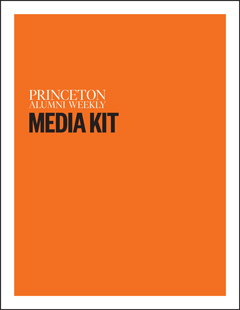 For information on advertising contact:
Allison Sullivan, Publishing Director
As7811@princeton.edu
609-258-2107
---
More from the Media Kit:
Print production specifications and advertising requirements
Classified advertising and schedule